Q: I'm getting a BioSig NMLS ID Error stating I have a Corporate/no NMLS ID#. What should I do?
A: If you're receiving this error, it means you need to fill out your NMLS ID field in your profile. Follow these steps to complete it:
1. Click on your profile drop-down and select "Profile".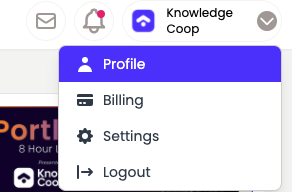 2. Select "Edit Profile"

3. Locate the NMLS ID field and fill it out accordingly.

4. Make sure to save your changes after entering your NMLS ID.
By following these steps you should be able to resolve the BioSig NMLS ID Error. If you encounter any further issues or have additional questions, please don't hesitate to reach out to our support team for further assistance at info@knowledgecoop.com.